New Highs and Lows widgets allow traders to see the latest stocks reaching new highs or lows on the day to identify potential momentum.
These filters are hard-coded to show only the top 15 stocks priced between $1 and $20, with a minimum volume of 200,000 on the day intraday. (Pre-Market only matches the price criterion)
By default, the New Highs and Lows are sorted Last High/Low Time
The columns displayed by default are the following:
Last High/Low Time
Symbol
Last
% Chg
Volume
You may add or remove and sort columns as necessary, similar to our Scans and Custom Scans.
New Highs and Lows may be added by selecting them from the Watchlists & Scans menu: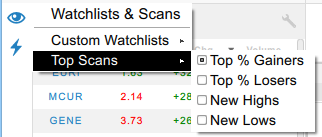 You may use the Wrench Icon (

) to hide the widgets.