Top % Gainers and Losers allow traders to quickly scan the market for the hottest stocks for the current session.
These filters are hard-coded to show only the top 15 stocks priced between $1 and $20, with a minimum volume of 200,000 on the day intraday. (Pre-Market only matches the price criterion)
By default, the Top % Gainers and Losers are sorted respectively in % Change descending and ascending.
The columns displayed by default are the following:
You may add or remove and sort columns as necessary, similar to our Scans and Custom Scans.
Top % Gainers and Losers may be added by selecting them from the Watchlists & Scans menu: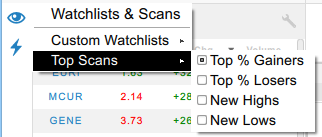 You may use the Wrench Icon (

) to hide the widget.