In some cases you may encounter the following message:

This issue is caused by the fact that you have not installed StocksToTrade on your mac.
In order to install StocksToTrade, you must open the DMG archive that you downloaded from the link that was provided to you.
This should open the following screen: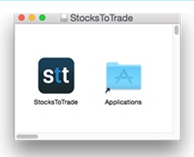 When running StocksToTrade directly from this screen, you will encounter the issue described above.
To resolve the issue, you must drag the StocksToTrade icon into the Applications icon.
This will install StocksToTrade on your system and you should be able to proceed with the update.
Here is a list of the steps to follow:
Download the DMG file from the original download link and place it on your desktop
Double click on the DMG file and you should see a window like this one: http://prntscr.com/9ves3z
Drag the StocksToTrade icon and drop it into the Applications icon
Run the StocksToTrade application from the Applications directory
If you have any additional issues, please contact our support team.